Subserosal uterine fibroids develop on the outer surface of the uterus and continue to grow outwards, giving the uterus a knobby appearance. At times, these fibroids tumors may be connected to the uterus by the means of a long stalk or a stem-like base. Such stalked fibroids are called pedunculated subserosal fibroids. These fibroids are often difficult to distinguish from an ovarian mass.
Over time, subserosal uterine fibroids may grow quite large but, unlike submucosal fibroids, which can greatly disrupt the shape of the uterine cavity as they develop beneath the uterine lining, these fibroids do not typically affect the size of the uterus' cavity. Like intramural fibroids, which grow inside the wall of the uterus, subserosal fibroids are also quite prevalent among women in their prime reproductive age.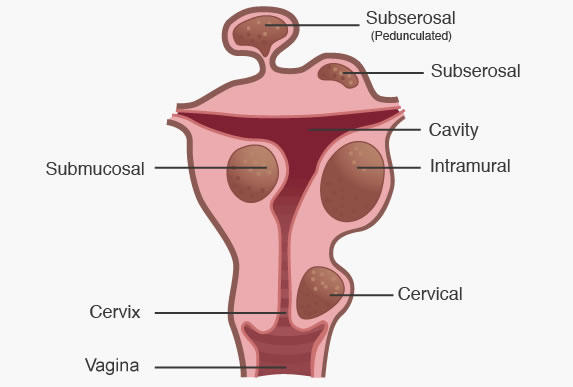 In the majority of women, subserosal fibroids produce no symptoms. Problems are customarily caused by large and pedunculated subserosal fibroids tumors. Some of the typical symptoms experienced by women with subserosal fibroids include:
Pelvic pain
Back pain
Constipation and bloating
A generalized feeling of heaviness or pressure
Frequent urination
Abdominal cramping and pain
At times, pedunculated subserosal fibroids can twist and cause pain
As subserosal fibroids are located on the outer surface of the uterus, they typically do not affect a woman's menstrual flow.
In this video, Dr. Vijayavel performed laparascopy on a patient who had fibroids and how he safely removed all of them.