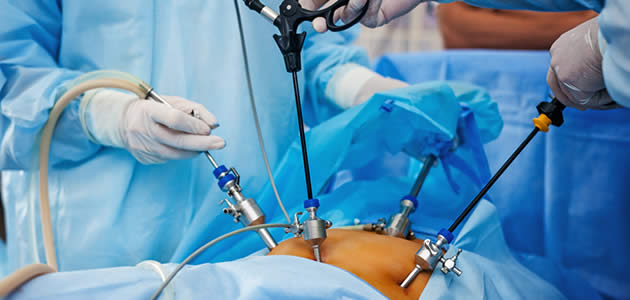 Dr Vijayavel has a special interest in Keyhole Surgery, otherwise known as Laparoscopy or Minimally Invasive Surgery. He was awarded the prestigious Bachelor in Endoscopy Certificate by The European Academy of Gynaecological Surgery. He spearheaded the KPJ Klang hospital to undertake patients from Ministry of Health for gynae oncology procedures.
Dr Vijayavel performs most of his surgeries by Laparoscopy because he strongly believes Minimally Invasive Surgery gives women the best surgical outcome. For suitable cases, Single Incision Laparoscopy can be the next option for reducing the surgery to Just One Cut. Currently, Dr Vijayavel performs his surgeries at Hospital KPJ Klang, Selangor.
If your doctor has recommended surgery, it's natural to feel anxious about it. But minimally invasive (also known as laparoscopic or keyhole) procedures are making many surgeries dramatically safer and more tolerable. Instead of a large incision at the treatment site, the surgeon makes one or more very small incisions, and inserts slender instruments and a tiny camera to help visualize progress on a monitor. In some cases, the patient goes home with only bandages to cover the wounds.
"Almost every surgeon at KPJ Klang Hospital performs some type of minimally invasive surgery," says Dr Vijayavel. Minimally invasive approaches are an important tool in our toolbox now. They can be far easier on the patient, causing less tissue damage, fewer complications, and minimal pain and scarring. Patients recover quickly and leave the hospital sooner."
Typically, the surgeon will make one or more small incisions, which are called "ports." The exact size of the ports will vary according to the procedure. Unlike an open surgery, the surgeon typically will not need to make extensive cuts through skin, muscle, tissue, and nerves.
The surgeon then works through the ports, inserting short, narrow tubes called trochars. The next step is to insert surgical instruments, along with tiny video camera equipment, through the ports. The surgeon manipulates the instruments to perform the surgery, while watching video pictures sent back from the camera on a monitor.
Depending on your procedure, there may be other differences in how a minimally invasive surgery is performed. For example, if you are having abdominal surgery, the surgeon will send carbon dioxide gas into your abdomen through a trochar to expand the area and provide room to operate.
Because minimally invasive surgery does not provide direct access to the surgical site in the same way as traditional open surgery, the procedure may be more complex for the surgeon. In some cases, it may take longer to perform.
Laparoscopy involves placing a lighted telescope (called a laparoscope) with a camera into your belly through a very small incision in the belly button. This allows the surgeon to see inside your belly and pelvis.
Robotic laparoscopy uses laparoscopic instruments controlled by a surgeon seated at a console.
Hysteroscopy uses a lighted telescope (called a hysteroscope) that is inserted through the vagina and cervix (neck of the womb) to see the inside of the uterus (womb). There are no incisions made.
At Caring Gynae OB/GYN, we offer comprehensive obstetric and gynecologic care for our patients. Our expert physicians are experienced in performing advanced laparoscopic surgery, robot-assisted surgery, and minimally invasive hysterectomy. If you have questions about these procedures or any of our other gynae laparoscopy services, call us at (03) 3377-7902 to make an appointment.