Awarded Prestigious Bachelor in Endoscopy Certificate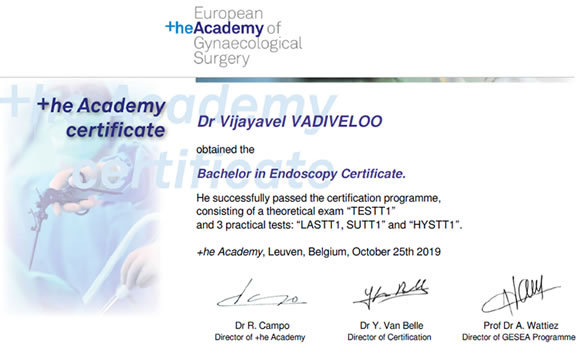 We understand that sometimes patients and referring doctors are concerned about laparoscopic surgery as it is a highly specialised field requiring three components, namely state-of-the-art equipment, a competent team and a well trained and skilled surgeon.
In 2019, Dr Vijay acquired the Bachelor in Endoscopy Certificate by The European Academy of Gynaecological Surgery. This is in tandem with our vision to provide a good and reliable Gynae endoscopy service as an option for our patients in Selangor, Malaysia.
The type of surgeries include
With the inclusion of our 3D laparoscopic system since 2017, we have been able to provide high end laparoscopic services to our patients. To date we have successfully performed more than 1000 gynae laparoscopy cases in KPJ Klang Specialist Hospital, Selangor.