Master In Surgical Management Of Deep Endometriosis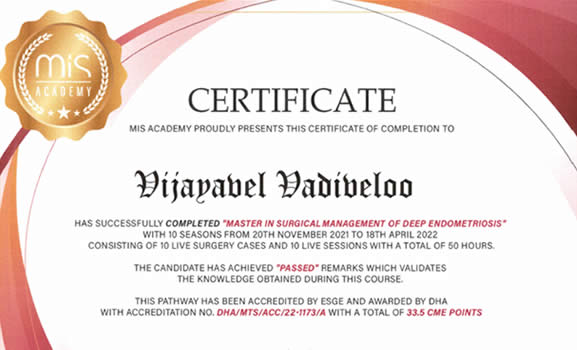 Dr Vijay completed the Master Surgical Management of Endometriosis from the Prestigious European Society of Gynae Endoscopy. We bring you surgical standards which is internationally recognized and acknowledged.
Dr Vijay started practising in minimally invasive surgery nearly 20 years ago and has a special interest in endometriosis surgery. Dr Vijay was always passionate about helping patients suffering from endometriosis pain, especially when I see the rewarding success of such difficult surgery and the impact on their quality of life.
According to the Royal College of Obstetricians and Gynaecologists, endometriosis is a condition where tissue similar to the inner lining of the womb (endometrium) is found elsewhere, usually in the pelvis around the womb, ovaries and fallopian tubes. It is a very common condition, affecting around 1 in 10 women.